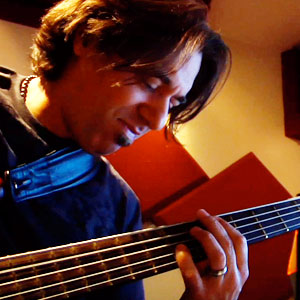 As a composer, George has had much success in a multitude of musical arenas.
In 1996 George started his professional composing career with news music giant Gari Communications (now Gari Media Group). Through Gari, George has written countless news themes and station ID's. Some of his Gari credits include ID's that launched the National Geographic Channel, the theme for Travel Channels 'Great Hotels,' Nat Geo's 'Extreme Planet,' 'On The Edge' and 'Surviving Everest.' George's news themes are found in all the major markets around the country and internationally. In 2012, George won a Promax Gold Award for his news image campaign 'Something for Everyone.'
In 1999 George started his library career with Amusicom by contributing his CD 'Adrenalin.' Soon after, George joined up with Video Helper and has written many promos, score and modules spanning over 10 Video Helper CDs. In 2009 George rejoined his efforts with Amusicom and has written many pieces including the 2010 full percussion CD 'Percussive Adventures.' In 2013 George took his multitude of library skills and formed EditBlox – the first frame accurate library for production
In 1999 George also joined the ranks of LA based Music Works and began scoring 'Baywatch Hawaii,' Lifetime's 'Intimate Portraits,' Universals 'The Mummy Animated Series,' and Discovery Kids 'Toddworld.' George also co-wrote and produced themes and songs for Disney, Lifetime and the Cartoon Network – including Disney's 'Kim Possible' theme.
Throughout the 2000's George has continued composing for many shows for FOX reality, DirecTV, FOX, Court TV, E!, Nickelodeon, Disney, and many others. Some shows include, FOX's 'The Osbornes,' DirecTV's 'Hometown Heroes,' Nickelodeons 'Go Diego! Go,' and 'Dora the Explorer,' 'Pictureka!,' 'Scrabble Showdown,' Nickelodeon's 'Dora and Friends,' and A&E's 'Extreme Builds,' and in 2016 Nickelodeon's 'Sunny Day.'
George works entirely on a freelance basis, and is forging strong new relationships and alliances for great new ventures in composing.